Visit City Centre Branch to see Prototype for a Bathroom, a four panel photomontage by Christine Leviczky Riek. Each coloured square is read in sequence to reveal stories in the panels and a brochure with an interpretation key is available at our Welcome Desk for viewers who want to know more about this artwork.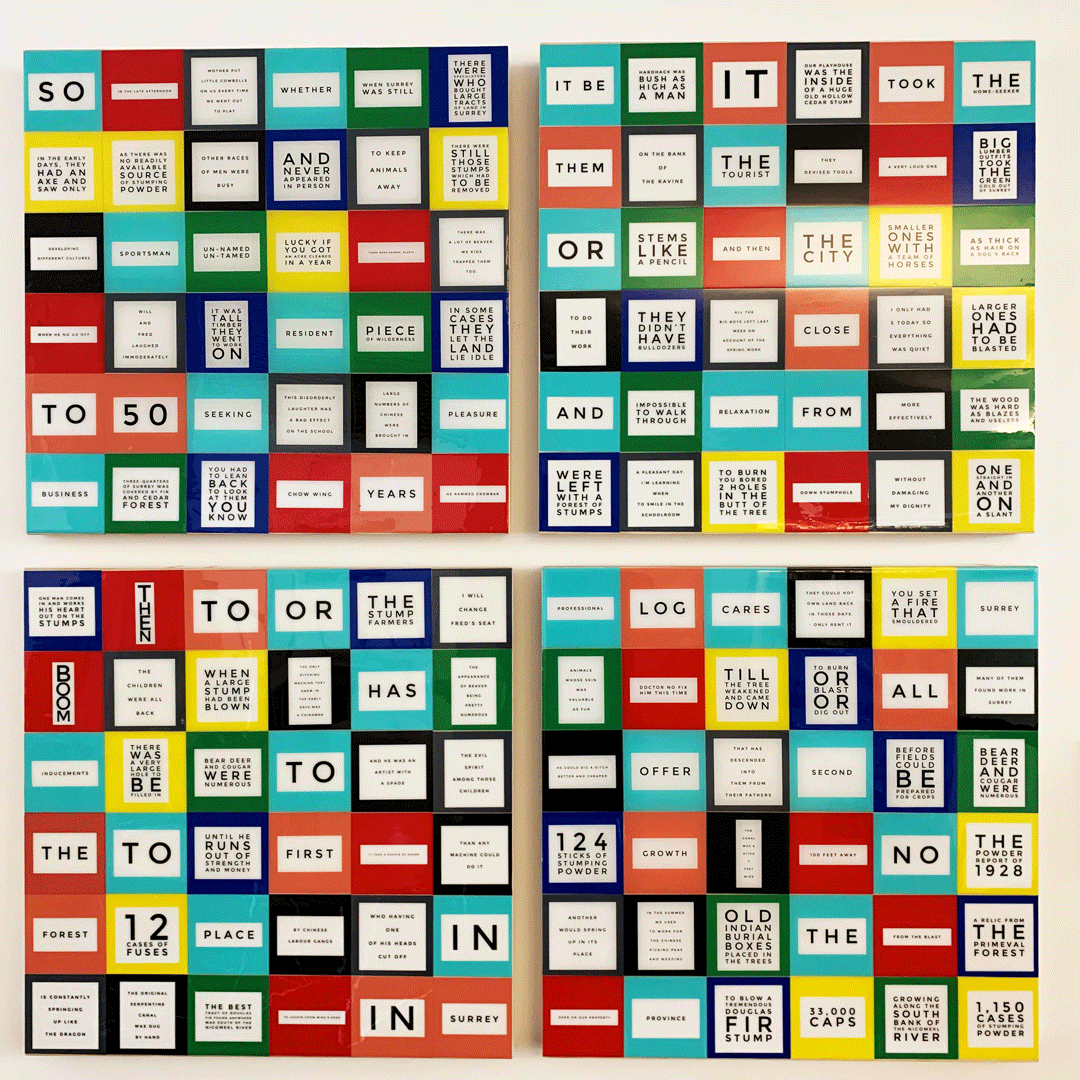 Christine Leviczky Riek (b. 1959)
Prototype for a Bathroom / Surrey Stories, 2018
Photomontage–resin-coated on cradled plywood panel, four panels 24"x 24" each
On loan to Surrey Libraries from the collection of Renee Sarojini Saklikar, Poet Laureate 2015-2018.
Artist Statement about Protoype for a Bathroom/Surrey Stories 2018
I focussed on descriptions of the early settler environment—logging, stump-clearing, ditch-digging. The resulting artwork is an exploration of settler voices and historian voices about the place where I live. These voices presented, for me, often difficult and problematic parts of our past. In this work, these uncomfortable historical extracts and quotes are broken, blasted apart, like the stumps that remained after Surrey's old-growth forests were logged. These remnants are recombined into a modern colourful palette, like the beautifully-manicured Morgan Creek neighbourhood in which I live. Therefore, the work symbolizes, for me, the tension I feel between how I live today with what I know about the area's past. If I don't look too closely, it's quite beautiful. But if I spend time digging into the history (or trying to "read" the text in the artwork), it becomes uncomfortable.
Christine Leviczky Riek
website: christineleviczkyriek.com/
Instagram: @christine.l.riek
< previous post
next post >