Description
Learn to code with a fun robot named Dash!
Surrey Libraries is proud to lend Dash Robot Kits. Download free apps onto your mobile device to activate the robot and to start having fun. Explore Dash's sounds, lights, and movements and complete hundreds of coding adventures to learn creative problem-solving. You do not need any previous coding experience to play with Dash.
Borrow a Dash Robot Kit
You can borrow a Dash Robot Kit for free using your library card at any branch of Surrey Libraries. 
Visit our Borrowing page and our Fines & Fees page for more important loan information.
You need to have a mobile device (smartphone or tablet) with Bluetooth and Internet access to connect to the Dash robot.
Dash Robot Kit Contents
Please remember to return all pieces of the kit, including:
1 Dash robot and 1 charging cable
1 bulldozer bar and 1 tow hook
2 bunny ears and 1 bunny tail
1 pack challenge cards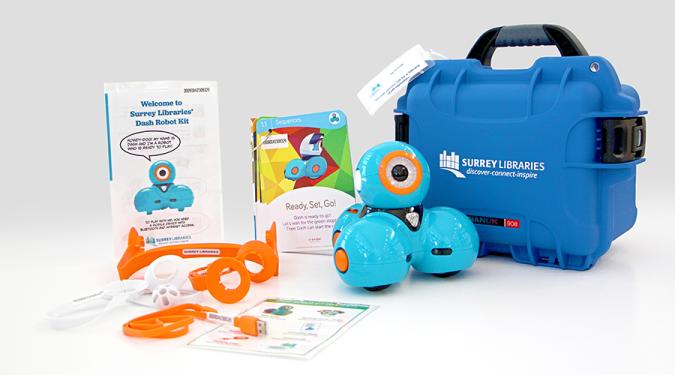 Getting Started with Dash
Charge the Dash robot

It takes 90 minutes to charge Dash 
The power button will light up and blink while charging and turn off when fully charged
You can play with Dash for 3 hours before charging it again

Download the free apps onto your mobile device
Use the apps to connect Dash to your mobile device

Turn on Dash and activate Bluetooth and Location Services on your mobile device
Open apps and follow the prompts to connect Dash to your mobile device
When you connect Dash to your mobile device, the robot might need updates that can take between 30 seconds and 5 minutes to complete

Now you are ready to play and explore!
Dash Care Instructions
Play with Dash on the floor
Play with Dash inside only
Keep Dash dry and away from liquids of all kinds
Keep Dash in the case when you are not playing with it
Hold Dash at the bottom with two hands when you pick it up
Helpful Resources
Explore these links to learn more about Dash and to find technical support if you have questions about how the robot works:
Thanks to our sponsor:

A special thank you to our donors for helping to make STEM technology and learning accessible for all children in Surrey.
By using devices provided by Surrey Libraries along with their associated software or apps the user accepts responsibility for the device and uses the device at their own risk. Surrey Libraries is not responsible for any damage or loss of data while using loanable devices.