BC's tech industry is booming and there aren't enough people with the skills required to fill the jobs that are available. This is what Google Canada realized and to help remedy the situation, last year they teamed up with Surrey Libraries and three other libraries across Canada to provide scholarships to hundreds of individuals to get trained in the Google IT Support Certificate Program (GISC Program).
Google's IT Support Professional Certificate is aimed to prepare participants to become ready for an entry-level job in IT support in about eight months, with no experience required. This certificate is part of Grow with Google, an initiative focused on helping everyone across Canada access the best of Google's training and tools to grow their skills, careers and business.
In addition to identifying students eligible to receive the Google scholarships, Surrey Libraries provided the students with online instruction and in-person learning facilitation by a dedicated Google IT Support Certificate Site Lead Librarian. Scholarships and funding for the Site Lead Librarian were supported through a generous Google.org grant.
The first cohort of 50 learners started the program in April 2019 and so far, 37 students from that group have finished the GISC Program and some have already landed jobs in the tech industry. Learners were provided wraparound supports including learning circles, opportunity to tour a local tech company, as well as presentations and workshops from the City of Surrey's IT Department, WorkBC, and TLC Solutions.
"This program was very well run and helpful in getting my foot in the door to IT. I received amazing support from Surrey Libraries, and I enjoyed a lot of aspects of how this course was set up and how it was executed." Said graduating student, Monica Mah "Having other learners to turn to weekly was very helpful in providing motivation, knowledge, and amusement. I feel more confident to be able to look for a job in the IT field."
"We're so pleased Surrey Libraries was chosen by Google to help support this program," said Surinder Bhogal, Chief Librarian at Surrey Libraries. "Surrey is the fastest growing city in British Columbia, with a diverse and talented population. The program also aligns well with one of the library's objectives to support digital skills development in preparation for a stronger workforce."
A second set of learners are about to embark on their learning journey in March. People interested in the GISC Program are invited to attend an information session on Wednesday, January 29 at Surrey Libraries – City Centre Branch, Room 402 at 6:30 pm. Call 604-598-7426 to register.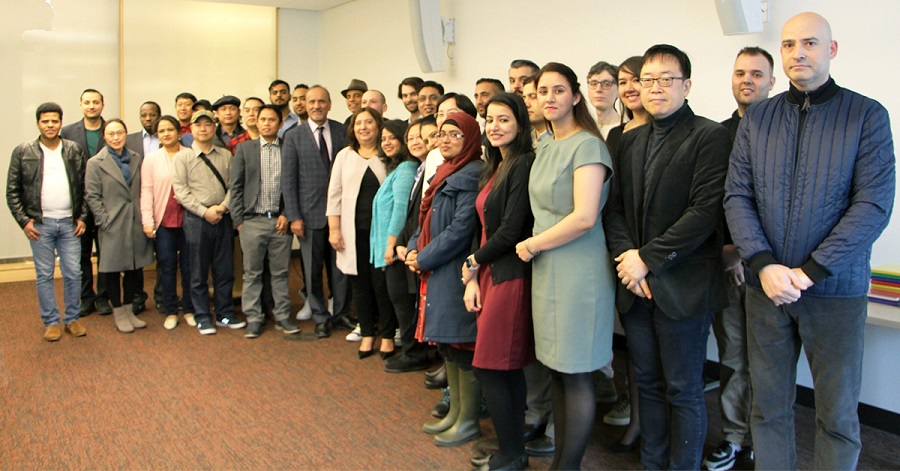 Graduates from the first cohort of the Google IT Support Certificate program along with the Honourable Harry Bains, MLA, Jinny Simms, MLA, and Councillor Mandeep Nagra, just after receiving their certificates on January 24.