Call for Applications - City of Surrey Poet Laureate
The City of Surrey is seeking applications for the position of Poet Laureate. The Surrey Poet Laureate program was developed in partnership with the City of Surrey's Cultural Development Advisory Committee and Surrey Libraries, as well as with the following partner groups: Surrey Arts Services, Surrey International Writers' Conference, Arts Council of Surrey, Creative Writing at Simon Fraser University, Kwantlen Polytechnic University Creative Writing, Semiahmoo Arts, and Surrey Muse.
Surrey's Poet Laureate will act as an ambassador for the City of Surrey and its people, advocating for literacy, promoting literary arts, and helping to raise the status of poetry, language, and the arts in the everyday consciousness of Surrey residents.
During a two-year term, the Poet Laureate will engage with the people of Surrey through readings, civic events, and community projects.
Submissions will be evaluated by a committee comprised of peer representatives and selected members of partner groups.
The Surrey Poet Laureate Program is managed and administered by Surrey Libraries.
Eligibility Criteria
Applicants for the City of Surrey Poet Laureate position must fulfil the following requirements:
Reside in the Lower Mainland (preference given to Surrey residents or applicants who show a strong connection to Surrey through work and projects)
Be a print poet, spoken word poet, or multimedia poet who is actively involved in the literary community
Demonstrate a record of publication

Print poets must have produced at least one volume of traditionally published poetry
Spoken-word poets must demonstrate a history of poetic excellence through participation in recognized performances, competitions, or public events

Write poetry in English
Duties and Responsibilities
The successful applicant will:
Be a literary ambassador for the City of Surrey
Engage with the people of Surrey through participation in civic events, festivals, programs, and/or other initiatives 
Create poetry over the course of the tenure as Poet Laureate
Propose and implement a legacy project
Term and Remuneration
The Poet Laureate is an honorary two-year term position beginning autumn 2019. The Poet Laureate is expected to comply with a Code of Conduct and Agreement. The position receives an honorarium of $5000 annually plus $1000 to cover travel costs. The Poet Laureate is expected to participate in 5-15 events, readings, programs, or workshops each year of the term. The Poet Laureate is responsible for arranging their own transportation to and from events.
Selection Criteria
The poet will be evaluated on the following:
Excellence of the poet's work (quality and artistic merit of work)
Traditional publication of at least one volume of poetry for print poets
History of poetry performance through competitions and public events for spoken word poets
Demonstration of familiarity with Surrey
Creativity and feasibility of proposed projects and activities
Level of comfort and skill in speaking to and engaging an audience
Excellent interpersonal and communication skills in maintaining effective working relationships
Demonstration of capacity for community outreach
Applications
Candidates for Poet Laureate must apply directly for the position. Applicants cannot be a City of Surrey employee, an elected official for the City of Surrey, or a member of the selection committee.
All submissions must include the following:
Letter from the applicant expressing their interest in and suitability for the position, along with confirmation of their place of residence
Proposal explaining how the poet would represent the City of Surrey, participate in Surrey life, and contribute to potential civic projects
A narrated example of their ability to deliver community outreach
Proposal for a legacy project that the Poet would establish during their term
Poet's curriculum vitae
Examples of published work. Spoken word and multimedia submissions must provide audio and video documentation as well as transcripts of the poems.
Two letters of support from reference(s) explaining why the applicant should be considered for the position of Poet Laureate
Shortlisted applicants are expected to participate in an in-person interview that will include a reading and presentation to the selection committee.
Intellectual Property
All writing, notes, and original materials produced during the Poet Laureate's term will remain the property of the Poet Laureate.  
Deadline
Submissions must be received in person, by mail, or by email no later than July 2, 2019
Email: poetry@surrey.ca
Deliver in person or by mail (postmarked by July 2, 2019):
City of Surrey Poet Laureate Selection Committee
c/o Surrey Libraries
Guildford Library
15105 105th Avenue
Surrey, BC V3R 7G8
Attention: Mariya Tokhtarova, Project Coordinator, Surrey Libraries
For More Information
poetry@surrey.ca
604-598-7370
surreylibraries.ca/poetlaureate
About the Poet Laureate Program
The Surrey Poet Laureate program was established in 2015 to advocate for literacy and the literary arts and to help raise the status of poetry, language, and the arts in the everyday consciousness of Surrey residents.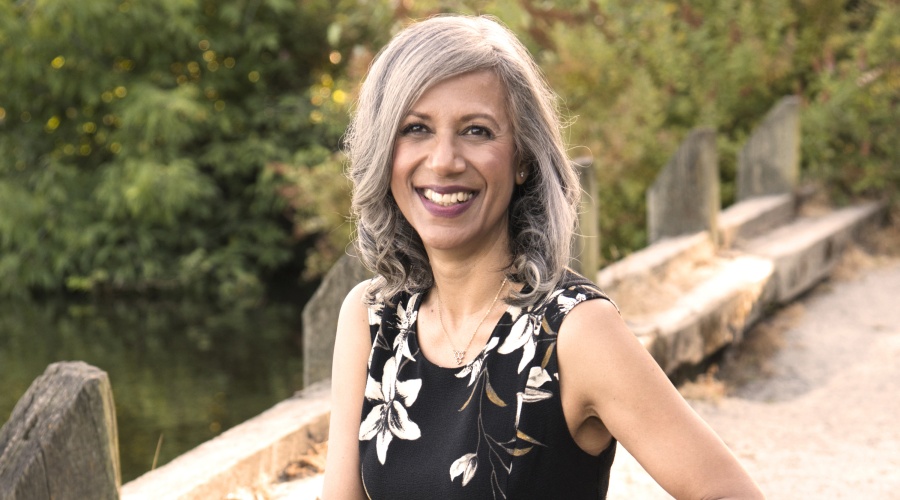 Renée Sarojini Saklikar was Surrey's inaugural Poet Laureate from 2015-2018, demonstrating a passion for connecting people of all ages, ethnicities, and backgrounds through poetry. She offered free monthly writing consultations, delivered writing workshops in schools and at community events, and encouraged Surrey residents to share local stories. Renee completed two legacy projects during her role as Surrey Poet Laureate: the first involved bringing 40 teens and seniors together to share their stories and was published as an anthology (Surrey Stories Connect: teens and seniors write Surrey, Surrey Libraries, 2016). The second was a series of chapbook writing workshops for 42 teen writers at 6 libraries. In the position, Saklikar participated in over 40 events each year and mentored over 150 writers through consultations and workshops.

< previous post
next post >