Surrey Libraries is excited to share that its chair of the board of Trustees, Karen Reid Sidhu, has been named this year's Super Trustee by the British Columbia Library Trustees Association (BCLTA). This annual award is presented to just one library trustee in the province who has made a major contribution to their library system.
Karen has served on the Surrey Libraries Board since 2012 and is currently serving her final term as a Trustee which runs until the end of this year. An active and engaged trustee, Karen served in several leadership roles and sat on numerous committees throughout her time on the Board. Despite being a busy executive of the Surrey Crime Prevention Society, Karen has been very generous with her time to Surrey Libraries, rarely missing a meeting and presenting to Council multiple times on behalf of the Library.
"Karen has been a tireless advocate and strong community champion of Library programs and services," said Surinder Bhogal, Chief Librarian at Surrey Libraries. "We will miss Karen's exuberance, passion, and commitment on our Board."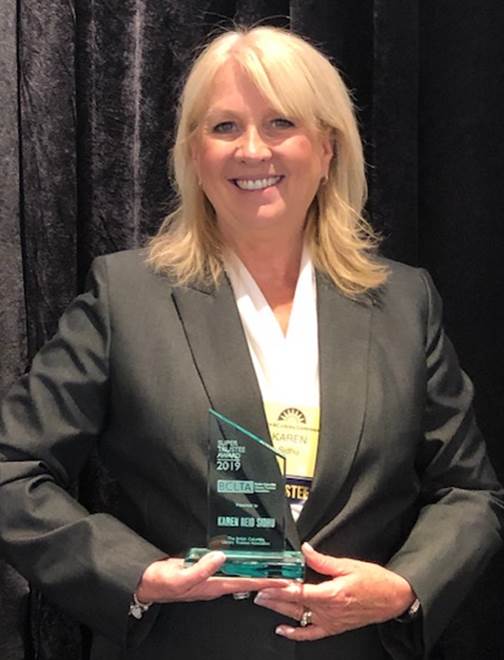 Karen has also helped raise the profile of Libraries through individual interactions with stakeholders and collectively by engaging her vast social media network.
"I'm honoured by this award. It's been a pleasure serving on the Board of Surrey Libraries," said Karen Reid Sidhu. "I wholeheartedly believe that library services are an invaluable resource for our community which help facilitate a more equitable society."
< previous post
next post >